Mój blog (Sierpień 2012)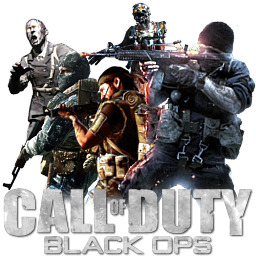 Call of Duty: Black Ops jest pierwszoosobową strzelanką, która jest wszystkim znana z popularnej serii gier "Call of Duty".
Za sprawą powstania tejże produkcji odpowiedzialne jest studio Treyarch.
W siódmej odsłonie gry bierzemy udział w szeregu różnorodnych oraz ciekawych misji.
Warto także dodać, iż misje rozgrywają się w okresie Zimnej Wojny.
Gra Call of Duty: Black Ops odznacza się wspaniałym trybem single player, który według mojej opinii jest jednym z najlepszym trybów w serii Call of Duty - a konkretniej całość sprawia wrażenie istnego szaleństwa, bowiem ze strony fabularnej ta część jest bardzo dobrze rozbudowana.
Chciałbym także wspomnieć, iż najlepszą częścią z serii Call of Duty jest trzecia część, która została wydana na konsole.
Podczas wykonywania misji w Black Ops mamy okazję zasiąść przy śmigłowcu Hind, czy też samolocie zwiadowczym Lockheed SR-71.
Oba środki transportu nadziemnego sprawiły, że poczułem się niczym w raju.
Oczywiście naszym celem z tychże maszyn było strzelanie do wrogów oraz wspieranie naziemnych jednostek.
Strona klimatyczna gry jak wiadomo jest napięta i interesująca, bowiem nigdy nie wiemy, co nas czeka.
W grze bardzo dużo się dzieje - gdyż wszystko zostało zobrazowane jak na prawdziwej wojnie.
Tutaj twórcy gry postawili ogromny nacisk na realistykę gry.
Jeśli chodzi o stronę graficzną tej gry, to w przypadku wersji konsolowej mnie w pełni zadowoliła. Nie oczekiwałem super wypasionej grafiki, ponieważ nie to jest najważniejszą rzeczą w grach.
Kolejnym bardzo ważnym i dobrze dopracowanym elementem jest udźwiękowienie gry.
Tutaj w tej kwestii muszę przyznać, iż twórcy stanęli na wysokości zadania, gdyż całość sprawia naprawdę ogromne wrażenie.
Chciałem dodać, że w Call of Duty: Black Ops mamy do dyspozycji dużym i bogatym arsenałem broni.
Od noża, granatów, aż po karabiny maszynowe i tym podobne.
Nowością w tejże odsłonie są potężne pociski Dragon's Breath, które sprawdzają się znakomicie podczas rozgrywki.
Jednym z ostatnich i ważnych elementów gry jest tryb multiplayer.
Oczywiście wszystko działa na takiej samej zasadzie jak w każdej grze z gatunku FPP.
Tryb multiplayer jest bardzo rozbudowany, bowiem mamy okaciekazję rozegrać różnorodne tryby gry, jak na przykład: Deathmatch, Capture the Flag, Sharp Shooter, czy też Podbój.
Tryb wieloosobowy jest niezwykle ciekawy oraz wciągający.
Oprócz trybu single player oraz trybu multiplayer w grze nie zabrakło również trybu Zombie, który zaiste jest graczom znajomy z Call of Duty: World at War.
Walki pomiędzy człowiekiem a zombie prowadzone są na różnego rodzaju lokacjach - a między innymi jest to kino, czy też budynek Pentagonu.
Rozgrywka w tym trybie jest bardzo ciekawa, bowiem oprócz strzelania do zombie i kupowania coraz to nowszych i lepszych broni musimy także odbudowywać bariery, które pozwalają, że zombie przez jakiś czas nie przejdą przez nią.
Dopiero po przełamaniu bariery zabawa zaczyna się od początku.
Z czasem liczba zombie rośnie, co świadczy o wzroście poziomu w grze.
Jest nam ciężej - mamy na swojej głowie więcej.
Istnieje również możliwość powiększania swojego terytorium, gdyż podczas rozgrywki możemy otwierać wszelkie napotkane przez nas drzwi.
Oczywiście otwieranie drzwi wiąże się również z kosztami.
W tymże trybie klimat jest mroczny, ponury - wnosi w grze duży dreszczyk adrenaliny.

Podsumowując - Gra Call of Duty: Black Ops jest tytułem dobrym, który wnosi dużo nowości i usprawnień w stosunku do poprzednich części.
Warto także nadmienić, iż całość sprawia ogromne wrażenie, gdyż w grze mamy do wyboru aż trzy formy rozgrywki. Wszystkie trzy tryby są świetnie dopracowane i nadają grze bardzo dużo atutów.
Wersja konsolowa jest dla mnie w pełni zadowalająca i mogę śmiało ją polecić każdemu fanowi takiego rodzaju gier.



komentarzy: 9

Czwartek, 02 sierpnia 2012, 10:30
Więcej o mnie
Krótko o mnie:Nazywam się Bodzio_Gracz. Jestem graczem komputerowo - konsolowym oraz kolekcjonerem gier. Wszystkie moje gry jakie kolekcjonuję są oczywiście oryginalne, gdyż trudno jest mi sobie wyobrazić w swej kolekcji jakąś nieoryginalną grę. Głównym i pierwszorzędnym gatunkiem gier, w jakie gram jest jRPG. W swojej kolekcji posiadam wiele gier z tego gatunku, np. Seria Final Fantasy, Dragon Quest. Chciałbym dodać także, iż moje zainteresowania sięgają także komputerów oraz konsol. A więc krótko mówiąc moimi zainteresowaniami są gry, konsole oraz komputery, bez których nie wyobrażałbym sobie życia.
Moje tagi:gry, komputery, konsole
Urodziny:za 245 dni (21 grudnia 1994)
Moje motto:Jeśli coś robisz , rób to do końca.
Obecny stan:

Gry to całe życie !
Posiadany sprzęt:PC, PC, PlayStation 2, Mobile, Mobile, Mobile, Mobile, mp4 IBOX eclipse, Telewizor LG , PlayStation 3, PSX, Telewizor 32', Telewizor 37', PlayStation 4, Pegasus
Namiary na mnie
e-mail: bodzio.majones(at)poczta.onet.pl, e-mail: bodzio.gracz(at)gmail.com, GG: 11646658, www: http://ja.gram.pl/Bodzio-gracz, Youtube: BodzioGracz, Facebook: BodzioGracz , e-mail: bodzio.gracz(at)gmail.com, Xfire: bodziogracz7, PlayStation Network: Bodzio__Gracz, Microsoft: BodzioGracz, Battlelog: Bodzio__Gracz, Origin: BodzioGracz1, Uplay: BodzioGracz, Steam: BodzioGracz, Google Plus: BodzioGracz, Twitter: BodzioGracz, Instagram: BodzioGracz
Prywatne wiadomości
Zaloguj się by wysyłać wiadomości
Ankieta
Jaką Postać z gry Assassin's Creed uważasz za najlepszą ?
Altair


61%

13 głosów

Desmond


4%

1 głos

Al-Mualim


0 głosów

Abbas Sofian


0 głosów

Malik Al-Sayf


19%

4 głosy

Ryszard I Lwie Serce


0 głosów

Tamir


0 głosów

Garnier de Naplouse


0 głosów

Talal


4%

1 głos

Abu'l Nuqoud


4%

1 głos

Wilhelm z Montferratu


0 głosów

Majd Addin


0 głosów

Jubair al Hakim


0 głosów

Sibrand


0 głosów

Robert de Sable


4%

1 głos
Suma oddanych głosów: 21
Ostatnio gram w
Tytuł gryPo sieci?Ukończona?
Planowane Zakupy.
PC:
- Counter Strike 1.6
- Counter Strike: Source
- Call of Duty 2
- Call of Duty 5: World at War
- Crysis
- Emergency 2012
- Fahrenheit
- F.E.A.R 2
- Ghostbusters
- Lego Star Wars II: The Original Trilogy
- Medal of Honor: 10th Anniversary Edition
- Penumbra Złota Edycja
- Portal
- Portal 2
- Serious Sam HD: Złota Edycja
- Sniper Elite V2
- Spintires
- The Elder Scrolls IV: Shivering Isles
- The Elder Scrolls IV: Knights of the Nine
- Wildlife Park II
- Zoo Tycoon II

PSX:
- Ace Combat 3
- Ape Escape
- Colin Mc Rae
- Crash Bandicoot 3
- Driver 2
- Dino Crisis
- Gran Turismo
- Gran Turismo 2
- Harry Potter and the Sorcerers Stone
- Harry Potter and the Chamber of Secrets
- Kiss Pinball
- Medal of Honor Underground
- Medal of Honor Underround 2
- Medievil
- Need For Speed Porsche 2000
- Need For Speed Road Challenge
- Pitfall 3D: Beyond the Jungle
- Resident Evil
- Resident Evil 2
- Silent Bomber
- Star Wars Episode I
- Star Wars Episode II
- Tombi
- Tony Hawk's Pro Skater
- Tony Hawk's Pro Skater 2

PS2:
- Ace Combat 04: Distant Thunder
- Ace Combat 5: Squadron Leader
- Ace Combat Zero: The Belkan War
- Ape Escape
- Brave
- Call of Duty: Finest Hour
- Call of Duty 3
- Crash Bandicoot: Wrath of Cortex
- Crash of the Titans
- Crash Bandicoot: Mind over Mutant
- Crash Bandicoot: Unlimited
- Crash Nitro Kart
- Fantavision
- Gran Turismo Concept 2002 Tokyo-Geneva
- Gran Turismo 4
- Jak and Daxter: The Precursor's Legacy
- Jak and Daxter: Zaginiona Granica
- Jak X Combat Racing
- Metal Gear Solid 2: Substance
- Metal Gear Solid 3: Snake Eater
- Motorstorm: Arctic Edge
- Okami
- Ratchet & Clank
- Ratchet & Clank: Size Matters
- Ratchet: Gladiator
- Ratatouille
- Robots
- Secret Agent Clank
- Stuart Little 3
- Spyro: Enter the Dragonfly
- Spyro: A Hero's Tail
- Spyro: A New Beginning
- Spyro: Enter the Dragonfly
- Star Wars Battlefront I
- Socom Combined Assault
- Super Monkey Ball Deluxe
- Super Monkey Ball Adventure
- Tony Hawk's Pro Skater 3
- Tony Hawk's Pro Skater 4
- Tony Hawk's American Wasteland
- Tony Hawk's Project 8
- Tony Hawk's Downhill Jam
- Tony Hawk's Porving's Ground
- Tourist Trophy
- Up: The Video Game
- WRC
- WRC II
- WRC: Rally Evolved

PS3:
- Ace Combat: Assault Horizon
- Call of Duty: Modern Warfare 2
- Call of Duty Black OPS II
- Colin McRae: Dirt 2
- Harry Potter: Insygnia Śmierci cz.1
- Harry Potter: Insygnia Śmierci cz.2
- Infamous
- Killzone 3: Helghast Edition
- Medal of Honor: Warfighter
- Metal Gear Solid 4
- Midnight Club: Los Angeles
- Ratchet & Clank: Quest for Booty
- Ratcher & Clank: A Crack in Time
- Ratchet & Clank: A Tools of the Destruction
- Skate
- Skate 2
- Socom: Confrontation
- Socom 4: Polskie Siły Specjalne
- Uncharted 3: Drake's Deception
- White Knight Chronicles
- White Knight Chronicles II


PS4:

- Agatha Christie: The ABC Murders
- Assassin's Creed Syndicate
- Assassin's Creed Unity
- Battlefield Hardline
- Call of Duty: Ghosts
- Destiny
- Diablo III: Reaper of Souls - Ultimate Evil Edition
- Dragon Age: Inkwizycja
- Dragon Quest Heroes
- Dying Light
- Fallout 4
- Far Cry 4
- Final Fantasy XIV: A Realm Reborn
- Final Fantasy XIV: Heavensward
- God of War III Remastered
- Grand Theft Auto V
- inFAMOUS First Light
- Killzone: Shadow Fall
- LEGO Batman 3: Poza Gotham
- LEGO Jurassic World
- LEGO Marvel Super Heroes
- LEGO Movie
- Metal Gear Solid V: Ground Zeroes
- Minecraft Story Mode
- Need For Speed Rivals
- Project CARS
- Resident Evil: Revelations 2
- Risen 3: Władcy Tytanów
- Sniper Elite III: Afrika
- The Elder Scrolls Online: Tamriel Unlimited
- The order 1886
- Thief
- Tom Clancy's The Division
- Tony Hawk's Pro Skater 5
- Uncharted: Kolekcja Nathana Drake'a
- Uncharted 4: Kres Złodzieja
- Wiedźmin 3: Dziki Gon
- Wiedźmin 3: Dziki Gon - Serca z Kamienia


Sprzęt:
- Głośniki Logitech Z-906
- Karta Pamięci 8 MB Sony
- Konsola Microsoft Xbox One X
- Konsola Microsoft Xvox One
- Konsola Microsoft Xbox 360
- Konsola Microsoft Xbox
- Konsola Sony PlayStation One
- Konsola PlayStation Portable
- Konsola PlayStation Vita
- Konsola Nintendo Wii
- Konsola Nintendo Wii U
- Konsola Nintendo 2DS
- Konsola Nintendo 3DS XL
- Konsola Nintendo Switch
- Konsola Super Nintendo Entertaiment System
- Konsola SEGA Mega Drive
- Konsola SEGA Dreamcast


Książki:

- Harry Potter i Kamień Filozoficzny
- Harry Potter i Komnata Tajemnic
- Harry Potter i filozofia: Przewodnik po Hogwarcie



Moje statystyki
Na gram.pl jestem już: 3555 dni
Moich wejść na gram.pl: 8 466 (#842)
Napisanych postów i komentarzy: 491 (#1431)
Napisanych recenzji: 83 (#2)
Wpisów na blogu: 200 (#57)
Liczba odwiedzin mojego gramsajta: 17 206 (#48)
Archiwum wpisów
Wrzesień 2010
Kwiecień 2011
Czerwiec 2011
Wrzesień 2012
Listopad 2012
Czerwiec 2013
Sierpień 2013
Luty 2014
Marzec 2014
Maj 2014
Czerwiec 2014
Lipiec 2014
Sierpień 2014
Wrzesień 2014
Listopad 2014
Styczeń 2015
Luty 2015
Marzec 2015
Kwiecień 2015
Lipiec 2015
Sierpień 2015
Wrzesień 2015
Październik 2015
Listopad 2015
Grudzień 2015
Styczeń 2016
Luty 2016
Marzec 2016
Kwiecień 2016
Maj 2016
Czerwiec 2016
Lipiec 2016
Październik 2016
Listopad 2016
Styczeń 2017
Luty 2017
Marzec 2017
Kwiecień 2017
Maj 2017
Czerwiec 2017
Lipiec 2017
Sierpień 2017
Wrzesień 2017
Październik 2017
Listopad 2017
Grudzień 2017
Styczeń 2018
Luty 2018
Marzec 2018
Maj 2018
Czerwiec 2018
Lipiec 2018
Sierpień 2018
Wrzesień 2018
Październik 2018
Listopad 2018
Grudzień 2018
Styczeń 2019
Luty 2019
Marzec 2019
Kwiecień 2019