Mój blog (Lipiec 2013)
Nie da się ukryć, że hybrydy nieraz stanowią czarne konie rynku gier wideo. Co się jednak może stać, jeśli połączymy nie tylko strategię turową i czasu rzeczywistego, ale również dorzucimy do tego elementy zręcznościowe i cRPG? Sprawdźmy w zapowiedzi.Tradycji staje się zadość
Historia przedstawiona w
Divinity: Dragon Commander
nie jest jakoś specjalnie odkrywcza, aczkolwiek niesie lekką bryzę świeżości. Niestety na tym się kończy. Umiera władca, zostawiając imperium dzieciom. Te niezbyt ze sobą pogodzone walczą o sukcesję. Jako że gdzie iluś się bije, tam korzysta osoba trzecia, Maxos – mag znany nam z
Divinity II: Ego Draconis
– przybywa do protagonisty, bękarta imperatora, by ten zakończył konflikt w bardzo prosty sposób: pokonując pozostałych pretendentów do tronu. Bohater główny jest półsmokiem, ale to nie znaczy, że wszystko pójdzie łatwo. Dzieci władcy sprzymierzyły się z demonem, dzięki czemu będą korzystać z technologii rodem z innych tytułów steampunkowych.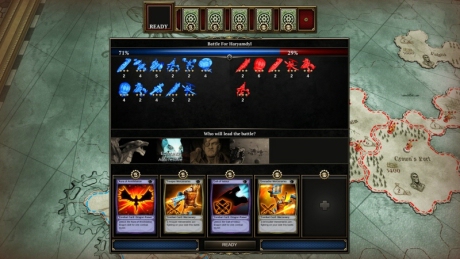 Jakbym widział jakieś
Europa Universalis
.
Mieszanka do kwadratu
Divinity: Dragon Commander
łączy w sobie aż 4 gatunki gier. To już nie hybryda, to wręcz chimera. Przyjrzyjmy się bliżej temu, jak będzie wyglądać rozgrywka. Przede wszystkim znane i lubiane elementy strategiczne. W trybie turowym będziemy rozwijać technologię, wznosić budowle w prowincjach, przerzucać wojska na inne obszary, odpierać ataki wroga oraz najeżdżać pozycje przeciwnika. Istna seria
Total War
albo z innych przykładów
Emperor: Battle for Dune
. Pytanie, czy w przypadku walk będzie zawsze chodzić o wycięcie oddziałów nieprzyjaciela w pień, czy też znajdzie się miejsce na jakieś eskorty ważnych osobistości, utrzymanie pozycji strategicznych przez jakiś czas, odbicie zakładników i takie tam. Powinno znaleźć się miejsce dla tychże opcji, zwłaszcza że w grze wielką rolę będzie odgrywać polityka, o czym za chwilę.
Walkę w czasie rzeczywistym można oczywiście pominąć przyciskiem 'auto', ale sprawdźmy, czego można dokonać, decydując się na osobiste dowodzenie oddziałami. Liczba jednostek na danym obszarze jest ograniczona, więc należy przede wszystkim nie bawić się w rzucanie mięsem armatnim pod fortyfikacje wroga. Początkowo wojska są tak liczne, jak to było reprezentowane na mapie ogólnej w trybie turowym. Da się rekrutować małą armię podczas bitwy, jednak nie na tym należałoby się skupić. Niestety na razie po filmikach wynika tyle, że warto jedynie nie posłać lądowych oddziałów przeciwko powietrznym, a odpowiednio duża liczba jednostek zrobi już swoje. Chyba że technologia będzie leżeć, morale kuleć, a głównodowodzący pokpi sprawę.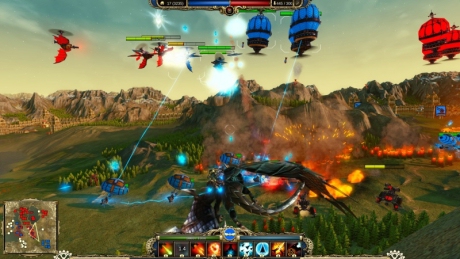 Przypomina się nieco
Sacrifice
, tylko smoczy.
A na czym może polegać element zręcznościowy? Otóż podczas bitwy można dynamicznie przełączać się pomiędzy trybem RTS i TPP. Jako półsmok możemy osobiście dopilnować, by nasze oddziały spełniły swoje zadanie. Nie tylko możemy ziać ogniem i siać zamęt w armii wroga, ale również wspierać wojska po naszej stronie, czy to lecząc je, mobilizując do walki, bądź chroniąc. Rzecz jasna, każdy smok dupa, kiedy wrogów kupa, więc nie należy się pchać samemu w wir walki, chyba że przeciwnikowi zostały już same siuśki. Albo nasza postać została wypoziomowana do granic możliwości. Już tutaj bowiem zaczynają się kłaniać elementy RPG, ale większą z nich frajdę będziemy mieć w polityce.
Najciekawiej zapowiadają się jednak decyzje polityczne. Co ciekawe, nie będą się jedynie ograniczać do wyboru paru opcji, jakichś tam taktyk i koniec. Twórcy z Larian Studios poszli o kilka kroków dalej. Przede wszystkim wszystko będzie przedstawione w rozwiniętych dialogach jak w rasowych cRPG-ach. Nie tylko poprzekomarzamy się z podwładnymi, ale i będziemy mogli poflirtować z księżniczkami innych ras. Macie chrapkę na krasnoludzicę, a może jednak elfia piękność? Wszystko ma swoje konsekwencje polityczne, wady i zalety. Jesteśmy za homoseksualistami? Super, ale konserwatyści i pobożni obywatele mogą się sfochać. Równouprawnienie kobiet i mężczyzn? Ok, ale ponownie niektórym się to może nie spodobać, a i skarbiec nie będzie już tak pełny jak przedtem. Poza tym do rozpatrzenia będą jeszcze interesy ambasadorów innych ras: krasnoludy, elfy, jaszczury, chochliki czy nieumarli (akurat ta rasa wydaje mi się nieco kontrowersyjna…).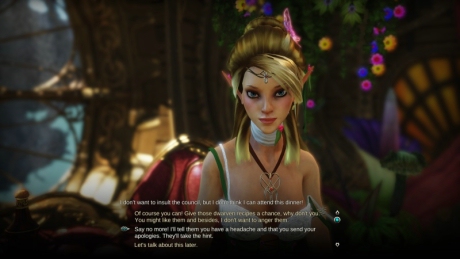 Czemu mam wrażenie, że wielu wybierze elfkę za żonę?
Gra na wiele lat?
Divinity: Dragon Commander
łączy w sobie wiele cech, przez co poskąpiono nieco grafice, aczkolwiek zdecydowano się na nierealistyczną stylistykę mogącą pomóc wybronić się produkcji przez kilka lat w kwestii oprawy wizualnej. Jeśli chodzi o udźwiękowienie, fani serii
Divinity
nie powinni mieć powodów do narzekań, gdyż poczują się jak w domu. Jak zwykle, na autora soundtracku wyznaczono Kirilla Pokrovsky'ego, który z pewnością zadba o charakterystyczny nastrój
Divinity
, jak również zagrzeje do walki podczas trybu RTS bądź TPP.
Już wkrótce przekonamy się, jak wyjdzie
Divinity: Dragon Commander
w praniu. Daję dość pozytywną prognozę, ponieważ zapowiada się fajnie, jednak odejmuję na start 2 oczka, bo przy takiej złożoności rozgrywki na pewno przekradnie się trochę bugów, niby ma być nieliniowo, ale z tym może być też różnie względem zróżnicowania rozgrywki i zakończeń. O tym, czy słusznie postępuję w tej chwili, przekonamy się już 6 sierpnia tego roku, kiedy to gra zostanie wydana. Byle byśmy nie musieli czekać paru miesięcy na ulepszone wersje, jak to miało miejsce w przypadku
Divinity II
.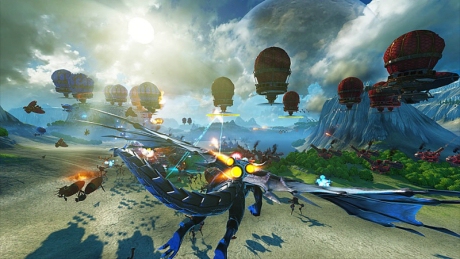 Co jest fajniejsze niż smok? Smok z jetpackiem!
Prognoza: 8/10

komentarzy: 1

Piątek, 19 lipca 2013, 21:55
Ankieta
Kiedy klaszczesz na występach?
Przed występem


1%

1 głos

W trakcie występu


3%

3 głosy

Po występie


49%

41 głosów

Przed/W trakcie


2%

2 głosy

Przed/Po


7%

6 głosów

W trakcie/Po


13%

11 głosów

Przed/W trakcie/Po


22%

19 głosów
Suma oddanych głosów: 83
Więcej o mnie
Krótko o mnie:Na imię mi Karol, a w Internecie przeważnie mnie można znaleźć jako Karfeina tudzież KoLoSa. Absolwent języków stosowanych (angielski i francuski) na Uniwersytecie Śląskim. W wolnych chwilach lubię grać w dobre gry, przede wszystkim cRPG, czytać dobre książki, przede wszystkim fantasy oraz słuchać dobrej muzyki, a zwłaszcza takiej, która akurat oddaje stan mojej duszy. Interesuję się również tworzeniem zawartości dodatkowej do niektórych gier komputerowych, a i nieco fotografią ostatnimi czasy. Aktualnie zawalony grami do recenzji dla portalu SwiatGry.pl
Moje tagi:fantasy, gry, recenzje, rpg, unreal
Urodziny:za 124 dni (20 marca 1988)
Moje motto:"Zaprawdę większe są przyjemności, które można dzielić." - Drizzt Do'Urden / "Każda droga, która wiedzie poprzez chaos i cierpienie, prowadzi do wielkiego skarbu." - Karfein vel KoLoS
Obecny stan:

Loff'ta
Posiadany sprzęt:PC, PC, PlayStation 2, PlayStation 3, PlayStation 4, PSP, PS Vita, Wii, Wii U, DS, New 3DS XL, Xbox 360, DC, Mobile, Mobile
Spis treści
Recenzje: Prince of Persia - The Sands of Time, Fable - Zapomniane Opowieści, R.A. Salvatore - "Obietnica Króla-Czarnoksiężnika", Two Worlds PL, ICO, Chrome PL, Chrome SpecForce PL, Spartan - Total Warrior PL, Opis: Jostein Gaarder - "Świat Zofii", BioShock, God of War, God of War II, Shadow of the Colossus, Puzzle Quest: Challenge of the Warlords PL, Puzzle Quest: Warlords, Planescape: Torment PL, Space Siege PL, Fahrenheit PL, MDK PL, MDK 2, Call of Juarez PL, Medal of Honor PL, Swords & Soldiers, Killzone 3, BlazBlue: Continuum Shift, MotorStorm: Apokalipsa, Baldur's Gate, Total War: Shogun 2, Sniper: Ghost Warrior, Proun, Heavenly Sword, Heavy Rain - Edycja Specjalna, inFamous, VVVVVV v2.0, Deus Ex: Human Revolution - Augmented Edition, God of War III, Naruto: Ultimate Ninja Storm, Naruto Shippuden: Ultimate Ninja Storm 2, Hydrophobia: Prophecy, Payday: The Heist, Sideway: New York, WipEout HD Fury, Hoard, Deus Ex: Human Revolution - The Missing Link, Dead Nation PL, Supersonic Acrobatic Rocket-Powered Battle-Cars, Max Payne, Max Payne 2: The Fall of Max Payne, Mafia: The City of Lost Heaven PL, Heroes Chronicles: All Chapters, NeverDead, Duke Nukem Forever: Hail to the Icons Parody Pack, Braid PL, Total War: Shogun 2 - Fall of the Samurai, Grotesque Tactics: Evil Heroes, Grotesque Tactics II: Dungeons & Donuts, Datura, Sniper Elite V2, Sorcery: Świat Magii, DiRT Showdown, Avernum: Escape from the Pit, Trine PL, Serious Sam 3: BFE, A.R.C.S, RobotRiot, Kung Fu Strike: The Warrior's Rise, Rijn the Specpyre in... Manor of the Damned, Serious Sam HD: The First Encounter, Serious Sam HD: The Second Encounter, Serious Sam HD: The Second Encounter - Legend of the Beast, Darksiders II, Symphony, Closure, Kung Fu Strike: The Warrior's Rise - Master Level, LittleBigPlanet Karting, XCOM: Enemy Unknown, Painkiller: Hell & Damnation, XCOM: Enemy Unknown - Elite Soldier Pack, Anarchy Reigns, Killzone, Legend of Fae, Baldur's Gate: Enhanced Edition, God of War: Wstąpienie, SimCity, Naruto Shippuden: Ultimate Ninja Storm 3, BioShock: Infinite, Chompy Chomp Chomp, 99 Spirits, Divinity: Dragon Commander, Total War: Rome II, Rush Bros., Superfrog HD, Worms: Revolution Extreme, The Swapper, Rise of the Triad: Dark War, Rise of the Triad, 9.03m, Type:Rider, XCOM: Enemy Within, Continue?9876543210, War of the Human Tanks, inFamous: Second Son, Tales of Symphonia Chronicles, Trine 2: Complete Story, PlayStation Vita: Zwierzaki, 99 Spirits: Cage of Night, Metrico, Point Perfect, Naruto Shippuden: Ultimate Ninja Storm 3 - Full Burst, Naruto Shippuden: Ultimate Ninja Storm Revolution.
Unreal: Opis: Unreal Antologia, Schemat recenzji modów do Unreala, Dark Magic (UT).
Zapowiedzi: The Last Guardian, God of War III, Two Worlds II, Six Days in Fallujah, Create, Music Master: Chopin, Deus Ex: Human Revolution, Mortal Kombat, Knights Contract, Killzone 3, Duke Nukem Forever, Dragon Age II, The Sims: Średniowiecze, Team ICO Collection, Hunted: Kuźnia Demona, Sorcery, Journey, The Elder Scrolls V: Skyrim, Call of Duty: Modern Warfare 3, Serious Sam 3: BFE, Kingdoms of Amalur: Reckoning, Binary Domain, Starhawk, Tokyo Jungle, LittleBigPlanet Karting, DRM: Death Ray Manta, XCOM: Enemy Unknown, Naruto Shippuden: Ultimate Ninja Storm 3, SimCity, God of War: Wstąpienie, BioShock: Infinite, Divinity: Dragon Commander, Total War: Rome II, Puppeteer, XCOM: Enemy Within, Tearaway, Killzone: Shadow Fall, Divinity: Grzech Pierworodny, South Park: The Stick of Truth, inFamous: Second Son, inFamous: First Light, Naruto Shippuden: Ultimate Ninja Storm Revolution, Archaica: The Path of Light, Trine 3: The Artifacts of Power.
Relacje: Game Art Panel (23.09.2011), Akira Yamaoka - spotkanie z kompozytorem serii Silent Hill (2.10.2011).
Must-watche: #1.
Opowiadania: coming soon
Galeria: Pierwszy rzut, Drugi rzut.
Failblog Karfeina: Pierwszy rzut.
Rozkminki: Milczące wzgórze, Głośna otchłań, Alter ego, "Pieniądze szczęścia nie dają, ale...", Słowo 'drow' i jak je czytamy, Święto zmarło, Mordy, ryje i pyski, Internetowe śmieci.
Nowinki: Koniec świata!, "Shadow of the Colossus" na srebrnym ekranie, Spam niszczy środowisko, Będzie reedycja Planescape: Torment!, Puzzle Quest 2 powstaje!, Technologia 5D.
Drizzt :): Kto on zacz?, Być jak Drizzt Do'Urden, Biały Drow, suplement + bonus.
O mnie: Zwiastun Wiosny, Wybór *niektórych* najlepszych wg mnie i najważniejszych dla mnie utworów, KoLoS + level up = Karfein, Wybór najlepszych wg mnie i najważniejszych dla mnie gier, Ewolucja ksyw Karfeina, 4,5-listna koniczyna, XV Przystanek Woodstock - relacja, Wyprawa do Walii - relacja, Spotkanie z Suomalainenką, Prywata, lic. Karol Świątek, Dziękuję.
Blog: Pierwszy wpis, W pogoni za Pięknem, Boję się..., Sen, Wierzę, Na glinianych nogach, Sen II, Nie żal życia gdy..., Śmiać się czy płakać?, Wkrótce się okaże, Ostatnie życzenie, Hocki klocki, Cyklon, Wola istnienia, Powiew świeżości, Wszystko co dobre szybko się kończy, Ankieta o layoucie, Lenistwo :P, COMA - Hipertrofia, Nareszcie sobie (nie) pogram!, Nie będzie niczego :), Owned, Czego można oczekiwać w czasie najbliższym?, Trochę inaczej, Win :), Nasza-Klasa..., Kolekcjonerski 'Shadow of the Colossus' (PS2) do wzięcia!, Ankieta o preferencjach, Ogłoszenia parafialne nr 1, Pierwsza rocznica GramSajta!, Spam świąteczny, Ankieta o napisach końcowych i nowinki, Puciapki - głosujta!, Ankieta o puciapkach, Nowy layout, A miała być kolejna recka..., Sucz Wena - polubcie ją, a się odwdzięczy!.
Archiwum wpisów
Listopad 2012
Kwiecień 2014
Czerwiec 2014
Lipiec 2014
Styczeń 2015
Luty 2015
Marzec 2015
Kwiecień 2015
Maj 2015
Czerwiec 2015
Lipiec 2015
Wrzesień 2015
Październik 2015
Listopad 2015
Grudzień 2015
Styczeń 2016
Luty 2016
Marzec 2016
Kwiecień 2016
Maj 2016
Czerwiec 2016
Lipiec 2016
Sierpień 2016
Wrzesień 2016
Październik 2016
Listopad 2016
Grudzień 2016
Styczeń 2017
Luty 2017
Marzec 2017
Kwiecień 2017
Maj 2017
Czerwiec 2017
Lipiec 2017
Sierpień 2017
Wrzesień 2017
Październik 2017
Listopad 2017
Grudzień 2017
Styczeń 2018
Luty 2018
Marzec 2018
Kwiecień 2018
Maj 2018
Czerwiec 2018
Lipiec 2018
Sierpień 2018
Wrzesień 2018
Październik 2018
Listopad 2018
Grudzień 2018
Styczeń 2019
Luty 2019
Marzec 2019
Kwiecień 2019
Maj 2019
Czerwiec 2019
Lipiec 2019
Sierpień 2019
Wrzesień 2019
Październik 2019
Listopad 2019
Ostatnio gram w
Tytuł gryPo sieci?Ukończona?
W planach
* Blog
* Klakiery występowe
* Recenzje gier ukończonych
* O dystrybucji cyfrowej słów kilkaset
* Kanon gier - seria wpisów
* Recenzja: The Elder Scrolls IV: Oblivion
* Gry komputerowe polskich deweloperów
* Opowiadanie pt. "Więzień wolności" - 45%
* Opowiadanie pt. "Podwójna dusza"
* Stworzenie sequela do kampanii do gry Sacrifice - projekt (chętnych do współpracy proszę o kontakt)
Przejście gier, które mamy, a w które jeszcze nie zaczęliśmy/zacząłem grać:
PC:
- Alpha Protocol
- Assassin's Creed: Liberation HD
- Assassin's Creed IV: Black Flag - Jackdaw Edition
- Assassin's Creed: Rogue
- Batman: Arkham Asylum - Game of the Year Edition
- Batman: Arkham City - Game of the Year Edition
- Batman: Arkham Origins + DLC
- Battlefield: Bad Company 2
- Beyond Good & Evil
- BioShock 2 + DLC
- Blur
- Bone: Wygnaniec z Kosteczkowa
- Bone: Wielki Wyścig Krów
- Borderlands: GotY Edition
- Call of Cthulhu: Mroczne Zakątki Świata
- Call of Duty: World at War
- Call of Duty: Modern Warfare 2
- Call of Duty: Modern Warfare 3
- Call of Duty: Black Ops
- Call of Duty: Black Ops II
- Call of Duty: Ghosts
- Ceville
- Crysis - Maximum Edition
- Crysis 2
- Crysis 3
- Dead Space
- Dead Space 2
- Dead Space 3
- Dear Esther
- Death Rally
- Deus Ex: The Fall
- Deus Ex: Mankind Divided
- Disciples III: Odrodzenie
- Disciples III: Wskrzeszenie
- Disciples III: Reincarnation
- Divinity II: Director's Cut
- Don't Disturb
- Dragonshard
- Drakensang: The Dark Eye
- The Elder Scrolls IV: Shivering Isles
- The Elder Scrolls V: Skyrim
- eXperience 112
- F.E.A.R. 2: Project Origin + Reborn
- F.3.A.R.
- Fallout 3 - Game of the Year Edition
- Fallout: New Vegas - Ultimate Edition
- Full Throttle
- Gothic II: Noc Kruka
- Gothic 3: Zmierzch Bogów
- Grand Theft Auto (wszystkie full 3D bez GTA V)
- Grim Fandango
- Homefront
- Legend: Hand of God
- Lucius II
- Mafia II - Special Extended Edition
- Medal of Honor: Warfighter
- Mini Ninjas
- Mirror's Edge
- NecroVision
- Need for Speed: Hot Pursuit
- Need for Speed: The Run
- Need for Speed: Most Wanted
- Overlord
- Overlord II
- The Path
- Portal 2
- Postal X
- Prince of Persia: The Two Thrones
- Prince of Persia (2008)
- Prototype
- Prototype 2
- Puzzle Quest 2
- Risen
- Risen 2: Dark Waters [+ DLC]
- S.T.A.L.K.E.R.: Shadow of Chernobyl
- S.T.A.L.K.E.R.: Clear Sky
- S.T.A.L.K.E.R.: Call of Pripyat
- Sacred 2: Fallen Angel
- Scribblenauts Unlimited
- Shelter
- Shenmue III
- Singularity
- South Park: The Stick of Truth
- Split/Second: Velocity
- Star Wars: Knights of the Old Republic
- Star Wars: Knights of the Old Republic II - The Sith Lords
- Star Wars: The Force Unleashed - Ultimate Sith Edition
- Star Wars: The Force Unleashed II
- Supreme Commander
- Supreme Commander: Forged Alliance
- Supreme Commander 2
- Tension
- Tom Clancy's EndWar
- Torchlight
- WarPath
- The Whispered World
- Wiedźmin 2: Zabójcy królów
- Year Walk
- Zeno Clash
- Zeno Clash II
PSX:
- Chrono Cross
- Final Fantasy VII
- Final Fantasy VIII
- Final Fantasy IX
- Vagrant Story
PS2:
- Final Fantasy XII
- God Hand
- Monster Hunter
- Rygar: The Legendary Adventure
- Serious Sam: Next Encounter
- Way of the Samurai
- Way of the Samurai 2
PS3:
- Alice: Madness Returns
- Call of Duty 3
- Dante's Inferno + DLC
- Demon's Souls
- Echochrome
- El Shaddai: Ascension
- Enchanted Arms
- Final Fantasy XIII
- Final Fantasy XIII-2
- ICO HD
- Lollipop Chainsaw
- Kingdoms of Amalur: Reckoning
- Move Fitness
- PixelJunk 4am
- Puppeteer
- rain
- Ratchet: Gladiator
- Resistance - trylogia
- Resonance of Fate
- Ryu ga Gotoku 1&2 HD Edition (Yakuza 1&2 HD Edition)
- Ryu ga Gotoku: Kenzan! (Yakuza: Arrives!)
- Shadow of the Colossus HD
- The Unfinished Swan
- White Knight Chronicles - Remastered Edition
- White Knight Chronicles II
- Yakuza 5
PS4:
- Alienation
- Dark Cloud
- Dark Chronicle
- Ratchet & Clank
- Rogue Galaxy
- Tales of Berseria
- Yakuza 0
- Yakuza: Kiwami
PSP:
- Assassin's Creed: Bloodlines
- Corpse Party
- Corpse Party: Book of Shadows
- Final Fantasy - 20th Anniversary
- Final Fantasy II - 20th Anniversary
- God of War: Ghost of Sparta
- Grand Theft Auto: Chinatown Wars
- Harvest Moon: Hero of Leaf Valley
- Innocent Life: A Futuristic Harvest Moon
- Killzone: Liberation
- LocoRoco
- LocoRoco 2
- Monster Hunter Freedom 2
- Monster Hunter Freedom Unite
- Patapon 2
- Patapon 3
- Ratchet & Clank: Size Matters
- Resistance: Retribution
- Tales of Phantasia: Narikiri Dungeon X
- Tales of the World: Radiant Mythology
- White Knight Chronicles: Origins
PS Vita:
- Killzone: Mercenary
- LittleBigPlanet Vita
- Monster Monpiece
- Oreshika: Tainted Bloodlines
- Resistance: Burning Skies
- Silent Hill: Book of Memories
- Tales of Hearts R
- Tokyo Twilight Ghost Hunters
- Superbeat: Xonic
Wii:
- Another Code: R – A Journey into Lost Memories
- Disaster: Day of Crisis
- Epic Mickey
- Madworld
- Trauma Center: New Blood
Wii U:
- Splatoon
DSi:
- Another Code
- Final Fantasy III
- Hotel Dusk: Room 215
- Last Window: The Secret of Cape West
- Okamiden
- Populous DS
- Radiant Historia
- Super Scribblenauts
New 3DS:
- Phoenix Wright: Ace Attorney Trilogy
- Spirit Camera: The Cursed Memoir
- Xenoblade Chronicles 3D
X360:
- Blue Dragon
- Fable II GotY
- Fable: Journey
- Gears of War 2
- Gears of War: Judgment
- Halo 3
- Lost Odyssey
- Ninety-Nine Nights (N3)
- Ninety-Nine Nights II (N3 II)
- Saints Row
- Tales of Vesperia

*** ZAKUP ***
PC:
- Assassin's Creed: Unity
- Call of Duty: Advanced Warfare
- Call of Duty: Black Ops III
- Plants vs. Zombies 2: It's About Time
PSX: nic

PS2:
- Genji: Dawn of the Samurai
- Glass Rose
- Michigan: Report from Hell
- Rule of Rose
- Samurai Warriors
- Shadow Hearts: Covenant
- Shin Megami Tensei: Lucifer's Call
- Shinobido: Way of the Ninja
PS3:
- Asura's Wrath + DLC
- Lightning Returns: Final Fantasy XIII
- No More Heroes: Heroes' Paradise
- Red Dead Redemption: Undead Nightmare
- Valkyria Chronicles [jeszcze DLC]
- Way of the Samurai 3
- Wonderbook - 3 pozostałe gry
PS4:
- Kingdom Hearts HD 2.8 Final Chapter Prologue
- Ryu ga Gotoku: Ishin (Yakuza: Restoration)
- Shenmue III
- Yakuza 6: The Song of Life [dokonało się]
PSP:
- Call of Duty: Roads to Victory
- Dungeon Siege: Throne of Agony
- Hatsune Miku: Project DIVA [dokonało się]
- Hatsune Miku: Project DIVA 2nd [dokonało się]
- Hatsune Miku: Project DIVA Extend [dokonało się]
- Kurohyō: Ryū ga Gotoku Shinshō (Yakuza: Black Panther)
- Kurohyō 2: Ryū ga Gotoku Ashura hen (Yakuza: Black Panther 2)
- Monster Hunter Freedom
- Secret Agent Clank
- Sweet Fuse: At Your Side
- Tales of Eternia
- Tales of the World: Radiant Mythology 2
- Tales of the World: Radiant Mythology 3
- Valkyria Chronicles II [jeszcze DLC]
PS Vita:
- Call of Duty: Black Ops - Declassified
- Conception II: Children of the Seven Stars
- Malicious: Rebirth
- Mind Zero
- Soul Sacrifice Delta
- Sumioni: Demon Arts
Wii:
- Arc Rise Fantasia
- Fragile Dreams: Farewell Ruins of the Moon
- The Last Story [dokonało się]
- Lost in Blue series
- No More Heroes 2: Desperate Struggle
- Red Steel
- Red Steel 2
- Samurai Warriors 3
- Samurai Warriors: Katana
- Trauma Team [not in EU]
- Zero: Tsukihami no Kamen (Project Zero 4) [unofficial patch]
Wii U:
- Bayonetta 1+2 [dokonało się]
- Chasing Aurora
- Chompy Chomp Chomp Party
- Pokken Tournament
- Swords & Soldiers II
- Xenoblade Chronicles X [dokonało się]
DSi:
- Ace Attorney Investigations: Miles Edgeworth
- Again [not in EU]
- Castlevania: Order of Ecclesia
- Flower, Sun, and Rain
- The Legend of Zelda: Spirit Tracks
- LifeSigns: Surgical Unit
- Lost in Blue series
- Trauma Center: Under the Knife 2 [not in EU]
- Unsolved Crimes
- The World Ends with You
(New) 3DS
- Persona Q: Shadow of the Labyrinth
- Professor Layton vs. Ace Attorney
- Proun+
- Tales of the Abyss
X360:
- Gears of War 3
- South Park Let's Go Tower Defense Play!
- South Park: Tenorman's Revenge
Moi znajomi
GramSajt

Robotnik

Gramik

Przodownik

MyGramy

Przodownik

Kraju

Pro bono

Rzygthul

Obywatel

DrakeBurn

Brygadzista

superbob

Konsul (gram.pl)

Kashikume

Obywatel

Lucas_the_Great

Moderator

Adahl

Robotnik

FunCorleonePL

Przodownik

kasiabartek

Robotnik

Cascad

Brygadzista

Materdea

Przodownik

pk-Filo

Obywatel
Moje statystyki
Na gram.pl jestem już: 5155 dni
Moich wejść na gram.pl: 18 133 (#254)
Napisanych postów i komentarzy: 3 130 (#370)
Napisanych recenzji: 50 (#5)
Wpisów na blogu: 238 (#41)
Liczba odwiedzin mojego gramsajta: 31 728 (#17)
Prywatne wiadomości
Zaloguj się by wysyłać wiadomości