Mój blog (Wrzesień 2010)
Coraz częściej słyszy się o dobrych polskich grach. Ba! Niektóre nawet zostały mianowane hitami, i to nie tylko w naszym kraju. Z pewnością wielu słyszało o Bound in Blood (Więzy Krwi), ale czy równie wielu słyszało o pierwszym Call of Juarez? Jeśli nie, przekonajmy się, czy nie ominął ich dobry FPS.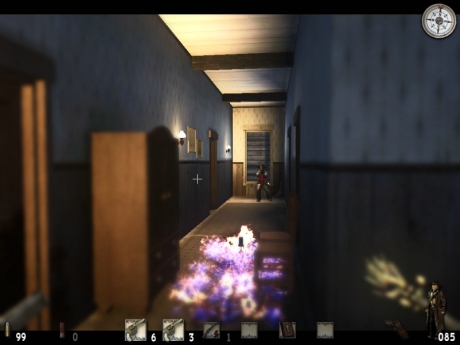 Nie ma co, efekty specjalne są tu naprawdę dobre


Zachodnia Dzicz
Akcja ma miejsce na Dzikim Zachodzie i bardzo dobrze oddano w grze ten klimat. Z góry więc uprzedzam, że trafimy tu na wiele klasycznych elementów westernu. Fabuła dotyczy dwóch spokrewnionych protagonistów, nad którymi przejmiemy kontrolę. Pierwszy to młodszy Billy, drugi to starszy pastor. Główna historia zaczyna się, gdy Billy (z jakim jego krewniak i tak ma na pieńku) znajduje się w niewłaściwym miejscu o najbardziej niewłaściwej po temu porze. Tak się bowiem składa, że wtedy na dom pastora napada banda zbirów, pali go, a żonę księdza zabija. Oczywiście winą obarczony zostaje Billy, a pastor rusza jego śladem, by się na nim zemścić. Gra dzieli się więc na dwie części, w jakich na zmianę będziemy uciekać Billym i gonić go pastorem. Ten pierwszy to przede wszystkim ucieczki, skradanki, platformówki i ciche zabójstwa, ten drugi to pełna akcji strzelanina, w której nie zabraknie pościgów (w tym konnych) i pojedynków na rewolwery.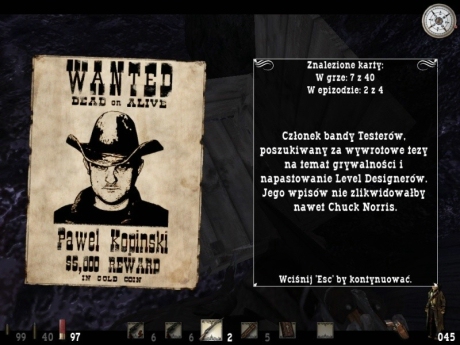 Też chciałbym być lepszy od Chucka


Chromowana oprawa
Gra działa na trzeciej generacji Chrome Engine i bierze z niego to, co najlepsze, więc przede wszystkim spodziewajmy się sporych lokacji, gdzie będzie, co robić. Jest to również jedna z tych gier, w których widzimy własne nogi, gdy spojrzymy w dół. Oprawa graficzna przedstawia się dobrze, tekstury wykonano starannie w dość wysokiej rozdzielczości, roślinność cieszy oko, a i do ludzi czy zwierząt nie można mieć większych zastrzeżeń - ot, dobrze wykonana robota. Niestety, tego samego nie mogę powiedzieć o animacjach. Postaci i zwierzęta poruszają się sztywno, jakby miały wsadzone w tyłki długie kije. Kończyny dolne się poruszają, tors i głowa zaś ani drgną, zero wstrząsów. Na plus jednak idzie fakt, że podchodząc do ścian postaci w ładny sposób odsuwają broń.
Do udźwiękowienia nie można mieć również większych 'ale'. Muzyka gra miło, choć raczej w pełnych akcji momentach, w pozostałych dane nam jest słyszeć ambientowe odgłosy. Na szczęście nie dopuszczono się dubbingu i ograniczono do kinowego tłumaczenia - wszak to Dziki Zachód, więc język angielski to mus. Niestety samo tłumaczenie wypada bardzo blado i jest w nim dość trochę błędów. Efekty dźwiękowe stoją także na przyzwoitym poziomie, absolutnie nie można spodziewać się bólu uszu.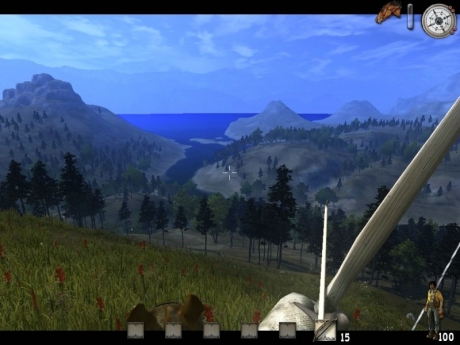 W tej grze będziemy nawet polować na króliki...


Na dwóch twórcy stawiali
I wyszło to grze na dobre, choć nie na najlepsze. Przede wszystkim jest tak z powodu niedopracowania jednej z postaci. Zacznijmy od tej średnio wykonanej. Mam tu na myśli Billy'ego, bardziej cichego bohatera. Główną bronią tego człowieka jest bicz, którym może walczyć na niewielką odległość, a także używać go do przeskakiwania przepaści, jeśli jest nad nią konar lub deska, czy do wspinania bądź opuszczania z drzew i innych wystających konstrukcji - tutaj jest dobrze. Niestety nie jest tak przy elementach skradankowych. W jednej misji mamy cicho się przekraść, a o wiele łatwiej wychodzi wybicie obozowiska do nogi, zebranie ekwipunku i pójście dalej. W innej misji odwiedzamy miejsce, gdzie protagonista już kiedyś był, lecz mamy skradać się na ślepo nie wiedząc, dokąd iść. Nie ma żadnego widoku kamery ani mapki, które by wskazały cel (jak np. w grze Fahrenheit - wiadomo było, gdzie iść, kiedy bohater był w pracy i miał coś naprawić). Skoro jest to cichy zabójca, w grze przyjdzie mu się także posługiwać łukiem, co mu idzie świetnie. Jest tym łatwiej grać tą bronią, bo gdy Billy napina strzałę, włącza się bullet-time i mamy czas spokojnie i dokładnie wycelować. Oczywiście nie mogło by się obyć bez wątku miłosnego w przypadku młodego uciekiniera, który pragnie się oczyścić z zarzutów. W każdym razie kierując tym bohaterem można się czasem podłamać, bo kiedy znajdzie się pod ostrzałem ma małe szanse na przeżycie, a w misji skradankowej bez problemu wybija (bynajmniej nie z ukrycia) kilkunastu wrogów, jednak mimo to dostarczy nam to sporo miłych wrażeń, zwłaszcza dzięki dobrym zwrotom akcji. Zdarzy się bowiem nie tylko przekradać czy uciekać, ale i poszukiwać rozwiązania zagadki, albo bić na pięści. Trochę na siłę według mnie dodano tylko etap z Indianinem, który zleca nam misje bardziej wydłużające czas rozgrywki, niż cokolwiek do niej wnoszące.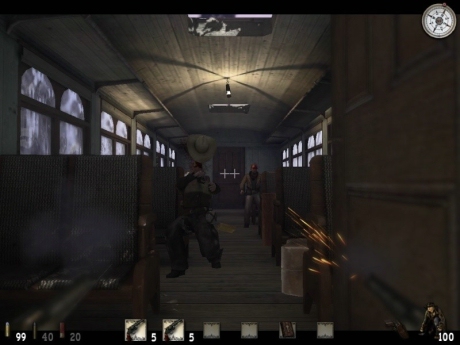 Tryb koncentracji i wrogowie mają na noc
Co do drugiego protagonisty, jest tu o wiele ciekawiej, i to pomimo faktu, że ten bohater to praktycznie tank. Pastor przede wszystkim jest odziany w metalowy napierśnik chroniący go przed strzałami w tors. Poza tym nasz duchowny posiada tryb koncentracji, w którym możemy dwiema broniami jednocześnie w zwolnionym tempie powystrzelać wrogów. Wydaje się to wszystko banalne, ale daje niewiarygodną frajdę. Na koniec jeszcze należy dodać, że pastor kilkakrotnie stoczy iście westernowy pojedynek na rewolwery. A żeby jeszcze bardziej poczuć klimat Dzikiego Zachodu, będziemy ścigać na koniu powóz i ten etap jest bardzo dynamiczny oraz pełen niespodzianek. Pastor poza rewolwerami, świetnie posługuje się strzelbą czy karabinem, a i przyjdzie mu również zabawić się maszynówką tamtych czasów. Żeby było ciekawiej, protagonista taszczy ze sobą Biblię, z której może odczytywać rozmaite ustępy, głównie o karaniu etc. Czytanie jednak nie wywierało żadnego wpływu na bohaterów niezależnych. Fabuła także i tu nie zawiedzie pod względem zwrotów akcji, a jeśli chodzi o dialogi to będzie wręcz ciekawiej, niż u pierwszego bohatera. Obaj będą zaś mieli okazję zbierać mordy twórców gry, jako poszukiwanych żywych lub martwych - opisy są co najmniej zabawne, tak więc polecam poszukiwania i lekturę. Z kolei żaden z nich nie będzie mógł dokonać następujących rzeczy: strzelać do zwierząt, ani do zwłok - po prostu nie wolno i tyle, pojawi się krzyżyk i nie będzie można oddać strzału czy wykonać innego typu ataku.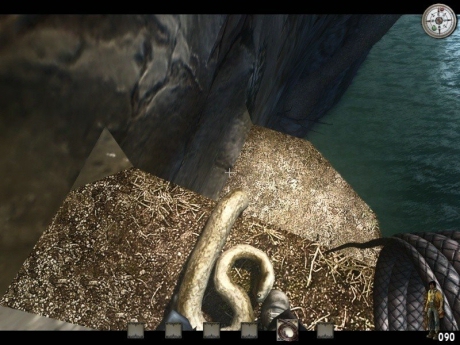 Tam, gdzie ścierają się dobre i gorsze tekstury
Zew Juarez
Jest to jedna z ciekawszych pozycji w portfolio polskich producentów gier, sądzę więc, iż każdy szanujący się fan gier FPS i westernów (zwłaszcza pochodzący z kraju nad Wisłą) powinien się nią zainteresować. Bawiłem się przy niej dobrze, choć kilka elementów mnie zawiodło. Na szczęście historia w grze była na tyle ciekawa, że chciało się przechodzić kolejne etapy, nawet jeśli coś w mechanice tego tytułu zgrzytało.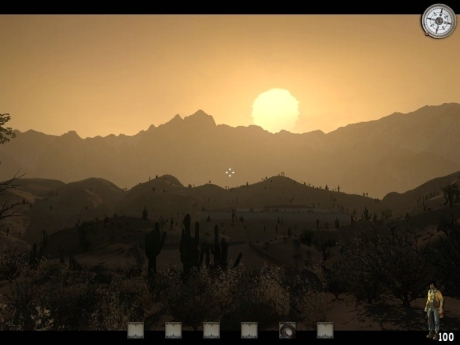 Już po dobranocce, do łóżek dzieci

Zalety i wady
+ brak dubbingu - wszak to Dziki Zachód
+ pojedynki, pościgi, strzelaniny - western
+ całkiem niezła fabuła
+ zbroja i tryb koncentracji pastora
+ różnorodny arsenał protagonistów
- kinowa polonizacja jest skaszaniona
- animacje pozostawiają sporo do życzenia
- brak dopracowania elementów skradankowych u Billy'ego
- trochę z tyłka misje u Spokojnej Wody
Moja ocena: 7,5/10


komentarzy: 8

Poniedziałek, 20 września 2010, 20:02
Ankieta
Kiedy klaszczesz na występach?
Przed występem


1%

1 głos

W trakcie występu


3%

3 głosy

Po występie


49%

41 głosów

Przed/W trakcie


2%

2 głosy

Przed/Po


7%

6 głosów

W trakcie/Po


13%

11 głosów

Przed/W trakcie/Po


22%

19 głosów
Suma oddanych głosów: 83
Więcej o mnie
Krótko o mnie:Na imię mi Karol, a w Internecie przeważnie mnie można znaleźć jako Karfeina tudzież KoLoSa. Absolwent języków stosowanych (angielski i francuski) na Uniwersytecie Śląskim. W wolnych chwilach lubię grać w dobre gry, przede wszystkim cRPG, czytać dobre książki, przede wszystkim fantasy oraz słuchać dobrej muzyki, a zwłaszcza takiej, która akurat oddaje stan mojej duszy. Interesuję się również tworzeniem zawartości dodatkowej do niektórych gier komputerowych, a i nieco fotografią ostatnimi czasy. Aktualnie zawalony grami do recenzji dla portalu SwiatGry.pl
Moje tagi:fantasy, gry, recenzje, rpg, unreal
Urodziny:za 128 dni (20 marca 1988)
Moje motto:"Zaprawdę większe są przyjemności, które można dzielić." - Drizzt Do'Urden / "Każda droga, która wiedzie poprzez chaos i cierpienie, prowadzi do wielkiego skarbu." - Karfein vel KoLoS
Obecny stan:

Loff'ta
Posiadany sprzęt:PC, PC, PlayStation 2, PlayStation 3, PlayStation 4, PSP, PS Vita, Wii, Wii U, DS, New 3DS XL, Xbox 360, DC, Mobile, Mobile
Spis treści
Recenzje: Prince of Persia - The Sands of Time, Fable - Zapomniane Opowieści, R.A. Salvatore - "Obietnica Króla-Czarnoksiężnika", Two Worlds PL, ICO, Chrome PL, Chrome SpecForce PL, Spartan - Total Warrior PL, Opis: Jostein Gaarder - "Świat Zofii", BioShock, God of War, God of War II, Shadow of the Colossus, Puzzle Quest: Challenge of the Warlords PL, Puzzle Quest: Warlords, Planescape: Torment PL, Space Siege PL, Fahrenheit PL, MDK PL, MDK 2, Call of Juarez PL, Medal of Honor PL, Swords & Soldiers, Killzone 3, BlazBlue: Continuum Shift, MotorStorm: Apokalipsa, Baldur's Gate, Total War: Shogun 2, Sniper: Ghost Warrior, Proun, Heavenly Sword, Heavy Rain - Edycja Specjalna, inFamous, VVVVVV v2.0, Deus Ex: Human Revolution - Augmented Edition, God of War III, Naruto: Ultimate Ninja Storm, Naruto Shippuden: Ultimate Ninja Storm 2, Hydrophobia: Prophecy, Payday: The Heist, Sideway: New York, WipEout HD Fury, Hoard, Deus Ex: Human Revolution - The Missing Link, Dead Nation PL, Supersonic Acrobatic Rocket-Powered Battle-Cars, Max Payne, Max Payne 2: The Fall of Max Payne, Mafia: The City of Lost Heaven PL, Heroes Chronicles: All Chapters, NeverDead, Duke Nukem Forever: Hail to the Icons Parody Pack, Braid PL, Total War: Shogun 2 - Fall of the Samurai, Grotesque Tactics: Evil Heroes, Grotesque Tactics II: Dungeons & Donuts, Datura, Sniper Elite V2, Sorcery: Świat Magii, DiRT Showdown, Avernum: Escape from the Pit, Trine PL, Serious Sam 3: BFE, A.R.C.S, RobotRiot, Kung Fu Strike: The Warrior's Rise, Rijn the Specpyre in... Manor of the Damned, Serious Sam HD: The First Encounter, Serious Sam HD: The Second Encounter, Serious Sam HD: The Second Encounter - Legend of the Beast, Darksiders II, Symphony, Closure, Kung Fu Strike: The Warrior's Rise - Master Level, LittleBigPlanet Karting, XCOM: Enemy Unknown, Painkiller: Hell & Damnation, XCOM: Enemy Unknown - Elite Soldier Pack, Anarchy Reigns, Killzone, Legend of Fae, Baldur's Gate: Enhanced Edition, God of War: Wstąpienie, SimCity, Naruto Shippuden: Ultimate Ninja Storm 3, BioShock: Infinite, Chompy Chomp Chomp, 99 Spirits, Divinity: Dragon Commander, Total War: Rome II, Rush Bros., Superfrog HD, Worms: Revolution Extreme, The Swapper, Rise of the Triad: Dark War, Rise of the Triad, 9.03m, Type:Rider, XCOM: Enemy Within, Continue?9876543210, War of the Human Tanks, inFamous: Second Son, Tales of Symphonia Chronicles, Trine 2: Complete Story, PlayStation Vita: Zwierzaki, 99 Spirits: Cage of Night, Metrico, Point Perfect, Naruto Shippuden: Ultimate Ninja Storm 3 - Full Burst, Naruto Shippuden: Ultimate Ninja Storm Revolution.
Unreal: Opis: Unreal Antologia, Schemat recenzji modów do Unreala, Dark Magic (UT).
Zapowiedzi: The Last Guardian, God of War III, Two Worlds II, Six Days in Fallujah, Create, Music Master: Chopin, Deus Ex: Human Revolution, Mortal Kombat, Knights Contract, Killzone 3, Duke Nukem Forever, Dragon Age II, The Sims: Średniowiecze, Team ICO Collection, Hunted: Kuźnia Demona, Sorcery, Journey, The Elder Scrolls V: Skyrim, Call of Duty: Modern Warfare 3, Serious Sam 3: BFE, Kingdoms of Amalur: Reckoning, Binary Domain, Starhawk, Tokyo Jungle, LittleBigPlanet Karting, DRM: Death Ray Manta, XCOM: Enemy Unknown, Naruto Shippuden: Ultimate Ninja Storm 3, SimCity, God of War: Wstąpienie, BioShock: Infinite, Divinity: Dragon Commander, Total War: Rome II, Puppeteer, XCOM: Enemy Within, Tearaway, Killzone: Shadow Fall, Divinity: Grzech Pierworodny, South Park: The Stick of Truth, inFamous: Second Son, inFamous: First Light, Naruto Shippuden: Ultimate Ninja Storm Revolution, Archaica: The Path of Light, Trine 3: The Artifacts of Power.
Relacje: Game Art Panel (23.09.2011), Akira Yamaoka - spotkanie z kompozytorem serii Silent Hill (2.10.2011).
Must-watche: #1.
Opowiadania: coming soon
Galeria: Pierwszy rzut, Drugi rzut.
Failblog Karfeina: Pierwszy rzut.
Rozkminki: Milczące wzgórze, Głośna otchłań, Alter ego, "Pieniądze szczęścia nie dają, ale...", Słowo 'drow' i jak je czytamy, Święto zmarło, Mordy, ryje i pyski, Internetowe śmieci.
Nowinki: Koniec świata!, "Shadow of the Colossus" na srebrnym ekranie, Spam niszczy środowisko, Będzie reedycja Planescape: Torment!, Puzzle Quest 2 powstaje!, Technologia 5D.
Drizzt :): Kto on zacz?, Być jak Drizzt Do'Urden, Biały Drow, suplement + bonus.
O mnie: Zwiastun Wiosny, Wybór *niektórych* najlepszych wg mnie i najważniejszych dla mnie utworów, KoLoS + level up = Karfein, Wybór najlepszych wg mnie i najważniejszych dla mnie gier, Ewolucja ksyw Karfeina, 4,5-listna koniczyna, XV Przystanek Woodstock - relacja, Wyprawa do Walii - relacja, Spotkanie z Suomalainenką, Prywata, lic. Karol Świątek, Dziękuję.
Blog: Pierwszy wpis, W pogoni za Pięknem, Boję się..., Sen, Wierzę, Na glinianych nogach, Sen II, Nie żal życia gdy..., Śmiać się czy płakać?, Wkrótce się okaże, Ostatnie życzenie, Hocki klocki, Cyklon, Wola istnienia, Powiew świeżości, Wszystko co dobre szybko się kończy, Ankieta o layoucie, Lenistwo :P, COMA - Hipertrofia, Nareszcie sobie (nie) pogram!, Nie będzie niczego :), Owned, Czego można oczekiwać w czasie najbliższym?, Trochę inaczej, Win :), Nasza-Klasa..., Kolekcjonerski 'Shadow of the Colossus' (PS2) do wzięcia!, Ankieta o preferencjach, Ogłoszenia parafialne nr 1, Pierwsza rocznica GramSajta!, Spam świąteczny, Ankieta o napisach końcowych i nowinki, Puciapki - głosujta!, Ankieta o puciapkach, Nowy layout, A miała być kolejna recka..., Sucz Wena - polubcie ją, a się odwdzięczy!.
Archiwum wpisów
Listopad 2012
Kwiecień 2014
Czerwiec 2014
Lipiec 2014
Styczeń 2015
Luty 2015
Marzec 2015
Kwiecień 2015
Maj 2015
Czerwiec 2015
Lipiec 2015
Wrzesień 2015
Październik 2015
Listopad 2015
Grudzień 2015
Styczeń 2016
Luty 2016
Marzec 2016
Kwiecień 2016
Maj 2016
Czerwiec 2016
Lipiec 2016
Sierpień 2016
Wrzesień 2016
Październik 2016
Listopad 2016
Grudzień 2016
Styczeń 2017
Luty 2017
Marzec 2017
Kwiecień 2017
Maj 2017
Czerwiec 2017
Lipiec 2017
Sierpień 2017
Wrzesień 2017
Październik 2017
Listopad 2017
Grudzień 2017
Styczeń 2018
Luty 2018
Marzec 2018
Kwiecień 2018
Maj 2018
Czerwiec 2018
Lipiec 2018
Sierpień 2018
Wrzesień 2018
Październik 2018
Listopad 2018
Grudzień 2018
Styczeń 2019
Luty 2019
Marzec 2019
Kwiecień 2019
Maj 2019
Czerwiec 2019
Lipiec 2019
Sierpień 2019
Wrzesień 2019
Październik 2019
Listopad 2019
Ostatnio gram w
Tytuł gryPo sieci?Ukończona?
W planach
* Blog
* Klakiery występowe
* Recenzje gier ukończonych
* O dystrybucji cyfrowej słów kilkaset
* Kanon gier - seria wpisów
* Recenzja: The Elder Scrolls IV: Oblivion
* Gry komputerowe polskich deweloperów
* Opowiadanie pt. "Więzień wolności" - 45%
* Opowiadanie pt. "Podwójna dusza"
* Stworzenie sequela do kampanii do gry Sacrifice - projekt (chętnych do współpracy proszę o kontakt)
Przejście gier, które mamy, a w które jeszcze nie zaczęliśmy/zacząłem grać:
PC:
- Alpha Protocol
- Assassin's Creed: Liberation HD
- Assassin's Creed IV: Black Flag - Jackdaw Edition
- Assassin's Creed: Rogue
- Batman: Arkham Asylum - Game of the Year Edition
- Batman: Arkham City - Game of the Year Edition
- Batman: Arkham Origins + DLC
- Battlefield: Bad Company 2
- Beyond Good & Evil
- BioShock 2 + DLC
- Blur
- Bone: Wygnaniec z Kosteczkowa
- Bone: Wielki Wyścig Krów
- Borderlands: GotY Edition
- Call of Cthulhu: Mroczne Zakątki Świata
- Call of Duty: World at War
- Call of Duty: Modern Warfare 2
- Call of Duty: Modern Warfare 3
- Call of Duty: Black Ops
- Call of Duty: Black Ops II
- Call of Duty: Ghosts
- Ceville
- Crysis - Maximum Edition
- Crysis 2
- Crysis 3
- Dead Space
- Dead Space 2
- Dead Space 3
- Dear Esther
- Death Rally
- Deus Ex: The Fall
- Deus Ex: Mankind Divided
- Disciples III: Odrodzenie
- Disciples III: Wskrzeszenie
- Disciples III: Reincarnation
- Divinity II: Director's Cut
- Don't Disturb
- Dragonshard
- Drakensang: The Dark Eye
- The Elder Scrolls IV: Shivering Isles
- The Elder Scrolls V: Skyrim
- eXperience 112
- F.E.A.R. 2: Project Origin + Reborn
- F.3.A.R.
- Fallout 3 - Game of the Year Edition
- Fallout: New Vegas - Ultimate Edition
- Full Throttle
- Gothic II: Noc Kruka
- Gothic 3: Zmierzch Bogów
- Grand Theft Auto (wszystkie full 3D bez GTA V)
- Grim Fandango
- Homefront
- Legend: Hand of God
- Lucius II
- Mafia II - Special Extended Edition
- Medal of Honor: Warfighter
- Mini Ninjas
- Mirror's Edge
- NecroVision
- Need for Speed: Hot Pursuit
- Need for Speed: The Run
- Need for Speed: Most Wanted
- Overlord
- Overlord II
- The Path
- Portal 2
- Postal X
- Prince of Persia: The Two Thrones
- Prince of Persia (2008)
- Prototype
- Prototype 2
- Puzzle Quest 2
- Risen
- Risen 2: Dark Waters [+ DLC]
- S.T.A.L.K.E.R.: Shadow of Chernobyl
- S.T.A.L.K.E.R.: Clear Sky
- S.T.A.L.K.E.R.: Call of Pripyat
- Sacred 2: Fallen Angel
- Scribblenauts Unlimited
- Shelter
- Shenmue III
- Singularity
- South Park: The Stick of Truth
- Split/Second: Velocity
- Star Wars: Knights of the Old Republic
- Star Wars: Knights of the Old Republic II - The Sith Lords
- Star Wars: The Force Unleashed - Ultimate Sith Edition
- Star Wars: The Force Unleashed II
- Supreme Commander
- Supreme Commander: Forged Alliance
- Supreme Commander 2
- Tension
- Tom Clancy's EndWar
- Torchlight
- WarPath
- The Whispered World
- Wiedźmin 2: Zabójcy królów
- Year Walk
- Zeno Clash
- Zeno Clash II
PSX:
- Chrono Cross
- Final Fantasy VII
- Final Fantasy VIII
- Final Fantasy IX
- Vagrant Story
PS2:
- Final Fantasy XII
- God Hand
- Monster Hunter
- Rygar: The Legendary Adventure
- Serious Sam: Next Encounter
- Way of the Samurai
- Way of the Samurai 2
PS3:
- Alice: Madness Returns
- Call of Duty 3
- Dante's Inferno + DLC
- Demon's Souls
- Echochrome
- El Shaddai: Ascension
- Enchanted Arms
- Final Fantasy XIII
- Final Fantasy XIII-2
- ICO HD
- Lollipop Chainsaw
- Kingdoms of Amalur: Reckoning
- Move Fitness
- PixelJunk 4am
- Puppeteer
- rain
- Ratchet: Gladiator
- Resistance - trylogia
- Resonance of Fate
- Ryu ga Gotoku 1&2 HD Edition (Yakuza 1&2 HD Edition)
- Ryu ga Gotoku: Kenzan! (Yakuza: Arrives!)
- Shadow of the Colossus HD
- The Unfinished Swan
- White Knight Chronicles - Remastered Edition
- White Knight Chronicles II
- Yakuza 5
PS4:
- Alienation
- Dark Cloud
- Dark Chronicle
- Ratchet & Clank
- Rogue Galaxy
- Tales of Berseria
- Yakuza 0
- Yakuza: Kiwami
PSP:
- Assassin's Creed: Bloodlines
- Corpse Party
- Corpse Party: Book of Shadows
- Final Fantasy - 20th Anniversary
- Final Fantasy II - 20th Anniversary
- God of War: Ghost of Sparta
- Grand Theft Auto: Chinatown Wars
- Harvest Moon: Hero of Leaf Valley
- Innocent Life: A Futuristic Harvest Moon
- Killzone: Liberation
- LocoRoco
- LocoRoco 2
- Monster Hunter Freedom 2
- Monster Hunter Freedom Unite
- Patapon 2
- Patapon 3
- Ratchet & Clank: Size Matters
- Resistance: Retribution
- Tales of Phantasia: Narikiri Dungeon X
- Tales of the World: Radiant Mythology
- White Knight Chronicles: Origins
PS Vita:
- Killzone: Mercenary
- LittleBigPlanet Vita
- Monster Monpiece
- Oreshika: Tainted Bloodlines
- Resistance: Burning Skies
- Silent Hill: Book of Memories
- Tales of Hearts R
- Tokyo Twilight Ghost Hunters
- Superbeat: Xonic
Wii:
- Another Code: R – A Journey into Lost Memories
- Disaster: Day of Crisis
- Epic Mickey
- Madworld
- Trauma Center: New Blood
Wii U:
- Splatoon
DSi:
- Another Code
- Final Fantasy III
- Hotel Dusk: Room 215
- Last Window: The Secret of Cape West
- Okamiden
- Populous DS
- Radiant Historia
- Super Scribblenauts
New 3DS:
- Phoenix Wright: Ace Attorney Trilogy
- Spirit Camera: The Cursed Memoir
- Xenoblade Chronicles 3D
X360:
- Blue Dragon
- Fable II GotY
- Fable: Journey
- Gears of War 2
- Gears of War: Judgment
- Halo 3
- Lost Odyssey
- Ninety-Nine Nights (N3)
- Ninety-Nine Nights II (N3 II)
- Saints Row
- Tales of Vesperia

*** ZAKUP ***
PC:
- Assassin's Creed: Unity
- Call of Duty: Advanced Warfare
- Call of Duty: Black Ops III
- Plants vs. Zombies 2: It's About Time
PSX: nic

PS2:
- Genji: Dawn of the Samurai
- Glass Rose
- Michigan: Report from Hell
- Rule of Rose
- Samurai Warriors
- Shadow Hearts: Covenant
- Shin Megami Tensei: Lucifer's Call
- Shinobido: Way of the Ninja
PS3:
- Asura's Wrath + DLC
- Lightning Returns: Final Fantasy XIII
- No More Heroes: Heroes' Paradise
- Red Dead Redemption: Undead Nightmare
- Valkyria Chronicles [jeszcze DLC]
- Way of the Samurai 3
- Wonderbook - 3 pozostałe gry
PS4:
- Kingdom Hearts HD 2.8 Final Chapter Prologue
- Ryu ga Gotoku: Ishin (Yakuza: Restoration)
- Shenmue III
- Yakuza 6: The Song of Life [dokonało się]
PSP:
- Call of Duty: Roads to Victory
- Dungeon Siege: Throne of Agony
- Hatsune Miku: Project DIVA [dokonało się]
- Hatsune Miku: Project DIVA 2nd [dokonało się]
- Hatsune Miku: Project DIVA Extend [dokonało się]
- Kurohyō: Ryū ga Gotoku Shinshō (Yakuza: Black Panther)
- Kurohyō 2: Ryū ga Gotoku Ashura hen (Yakuza: Black Panther 2)
- Monster Hunter Freedom
- Secret Agent Clank
- Sweet Fuse: At Your Side
- Tales of Eternia
- Tales of the World: Radiant Mythology 2
- Tales of the World: Radiant Mythology 3
- Valkyria Chronicles II [jeszcze DLC]
PS Vita:
- Call of Duty: Black Ops - Declassified
- Conception II: Children of the Seven Stars
- Malicious: Rebirth
- Mind Zero
- Soul Sacrifice Delta
- Sumioni: Demon Arts
Wii:
- Arc Rise Fantasia
- Fragile Dreams: Farewell Ruins of the Moon
- The Last Story [dokonało się]
- Lost in Blue series
- No More Heroes 2: Desperate Struggle
- Red Steel
- Red Steel 2
- Samurai Warriors 3
- Samurai Warriors: Katana
- Trauma Team [not in EU]
- Zero: Tsukihami no Kamen (Project Zero 4) [unofficial patch]
Wii U:
- Bayonetta 1+2 [dokonało się]
- Chasing Aurora
- Chompy Chomp Chomp Party
- Pokken Tournament
- Swords & Soldiers II
- Xenoblade Chronicles X [dokonało się]
DSi:
- Ace Attorney Investigations: Miles Edgeworth
- Again [not in EU]
- Castlevania: Order of Ecclesia
- Flower, Sun, and Rain
- The Legend of Zelda: Spirit Tracks
- LifeSigns: Surgical Unit
- Lost in Blue series
- Trauma Center: Under the Knife 2 [not in EU]
- Unsolved Crimes
- The World Ends with You
(New) 3DS
- Persona Q: Shadow of the Labyrinth
- Professor Layton vs. Ace Attorney
- Proun+
- Tales of the Abyss
X360:
- Gears of War 3
- South Park Let's Go Tower Defense Play!
- South Park: Tenorman's Revenge
Moi znajomi
GramSajt

Robotnik

Gramik

Przodownik

MyGramy

Przodownik

Kraju

Pro bono

Rzygthul

Obywatel

DrakeBurn

Brygadzista

superbob

Konsul (gram.pl)

Kashikume

Obywatel

Lucas_the_Great

Moderator

Adahl

Robotnik

FunCorleonePL

Przodownik

kasiabartek

Robotnik

Cascad

Brygadzista

Materdea

Przodownik

pk-Filo

Obywatel
Moje statystyki
Na gram.pl jestem już: 5151 dni
Moich wejść na gram.pl: 18 133 (#254)
Napisanych postów i komentarzy: 3 130 (#370)
Napisanych recenzji: 50 (#5)
Wpisów na blogu: 238 (#41)
Liczba odwiedzin mojego gramsajta: 31 699 (#17)
Prywatne wiadomości
Zaloguj się by wysyłać wiadomości